Tigers at Play – TIGERS INTERNATIONAL a September Vacation
Gordon England
---
This is a very personal view of the month of September 2002 as seen through the eyes of one player only. Omissions and prejudices taken as read therefore!!
I was honoured to be offered John Dandy's Tiger, ERB 545C, to drive to Le Mans. Part of the deal was an unknown passenger from the USA. This was in part because JD was taking the modern with several other international guests, not to mention the usual bits and pieces required for a Tiger trip. My passenger turned out to be Steven Alcala, who carried out the major rebuild of 'No 9' Le Mans Tiger for Darrell Mountjoy. This was a significant bonus, as you will see later. The plans were set a good time ago and the build-up via the Goodwood Revival and Brighton Speed Trial sounded really good. The possibility of an invite to Qualifying for the CART race at Rockingham added to the fun. Then we went to Goodwood where a picnic had been organised for both days. We had a very enjoyable and social time in spite of some hideously early starts. This was also a chance to meet up with some of our overseas visitors who were here for varying amounts of time.

Period outfits & overalls in Paddock with Angela Dandy
A small group had dinner on Saturday with Brian Lister and Ken Hazlewood, who between them were responsible for building the three Le Mans cars. The cars were described by the Goodwood organisers as Sunbeam Lister Tigers, which sounded a bit odd, but if that is what got us in, small price to pay. I think Brian and Ken were a little surprised at the amount of interest in some of their less successful offspring but were clearly pleased to be with us.
Around about 18 Tigers arrived fairly early on Sunday morning to be lined up together in the Pre-1966 car park, which this year was nicely arranged either side of the main pathway to the front entrance of the circuit. They made a very impressive showing in a park which was less well filled than in previous years, partly I think because the Goodwood club members had the chance to park their cars along the Lavant straight.

The Tigers ran extremely well in the Tourist Trophy against some very strong competition and an awful lot of Grand Prix drivers. We had one of those too in the shape of Howden Ganley who shared Tony Eckford's car with Chris Beighton. Chris made a very stirring start and got up to 10th before a couple of spins slowed him a little. Peter Procter making a return to racing for the first time since his terrible accident in 1966 (which took place at Goodwood) had a steady run in No. 9 which was continued by owner Darrell Mountjoy when he took over. Still both cars finished, which was a great achievement, and there was a great deal of excitement in the paddock when the cars were allowed out of Parc Ferme after the race.
| | |
| --- | --- |
| | It turned out that Peter had been savaged by David Piper in a Ferrari while going into St Mary's (which was where he had the big accident). There was no real explanation for why David, who wasn't among the front runners, had hit him and a certain amount of ill-feeling ensued. Thanks to a great effort by Jon Finnemore and Tom at St Peters Auto's the car was back to it's immaculate self by Le Mans. Otherwise the car's seemed fine. However, it became apparent that Darrell was pretty short of the right kind of help in the paddock and in the pits. So after a lot of discussion in the intervening week, - I seemed to have volunteered to help for Le Mans. The qualifying day (13th Sept) at Rockingham was spent largely in discussions about what needed doing and how we would manage things. Darrell and I spent a good part of the day talking and walking round the car (which was on display with Tony's). The cars were parked outside the Budweiser tent, along with quite a number of people who obviously felt the bar was the best place to watch the |
fun from. Their quiet afternoon was quite rudely spoilt when we started No.9 up. This resulted in a lot of noise from the car (it has very short straight pipes, which exit under the doors) and a lot of spilt beer, as people picked themselves up! Definitely good fun! We did not set out to abuse Tony's hospitality at Rockingham but I think we did, so to set the record straight, thanks very much for the invite Tony. I did watch the first hour of practice for the CART race, which was very impressive indeed. The quickest lap in that time being at a shade over 214mph average
!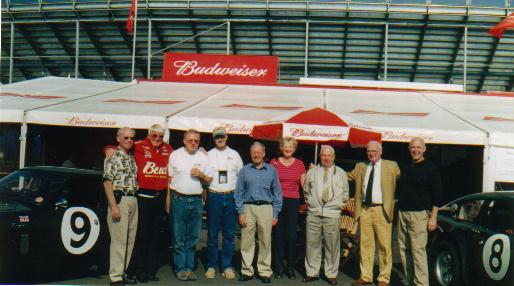 Peter Phelps, John Dandy, Gordon, Bill Miller, Keith Hampson, Linda McLeod, Ken Hazlewood, Brian Lister, Darrell Mountjoy

An aside here. The co-driver for Le Mans, as at Goodwood was to be Peter Procter, so quite a lot of my preparation consisted of panicking about what I would need to do to ensure he was happy. Being used to the ministrations of such illustrious managers as Norman Garrad and Marcus Chambers, (not to mention Alan Mann and Ken Tyrrell), I was a little nervous about whether I would get it all right. Of course that was silly of me as Peter knew exactly what was required of him and was quite able to make sure we all knew what to do as well. In fact it was a very great privilege to work with a real pro and I really appreciated the opportunity.

The discussions and planning extended into the following day so I missed the Brighton Speed Trial but by the end of the day Darrell was delivered to Surbiton and we all had lists of things to get / borrow / buy. A slight further complication was that I was not travelling with Darrell but with JD and we set out the day before the racers. The trip for real started on Tuesday evening at the Surbiton, where the hospitality was at its usual impeccable standard – thanks again John and Angela. A very early start to get to the to the ferry was fine although there were far fewer people at the docks than last year's trip in June, not completely surprising I suppose. We got through Le Havre a bit more effectively than last year as well. The journey south was great fine weather, and the chance to get to know Steven and understand more about the race car and its present state of preparation.

At the hotel we met up with some of the other racers and supporters including STOC member Jim Campbell with his pre-war Aston Martin and the trusty Le Mans Alpine of Keith Hampson, together with crews and co-drivers. The first of a few very good meals followed, accompanied by some excellent wines so the pattern for the week got off to a flying start.
| | |
| --- | --- |
| No 9 Men at work - Gordon, Darrel & Steve Alcala | No 8 Team - Mark Lupton, Jon Finnemore, (Gordon), Ralf Avis, Chris Beighton |
We did a certain amount of preparation work on Thursday and waited for the cars to arrive. And waited. We found a few places to hide at the circuit and were not instantly thrown out for not having the right passes, a very unusual situation for the French. When the cars did arrive we had really only time to unpack them and park them in the paddock spaces allocated. No. 9 had become No.10 in our 'grid' but this was not as bad as No.8 which became No 49! Needless to say we were on opposite sides of the paddock which was not what we had hoped for. Having settled things away we returned to the hotel. By this time it was dark and we decided to return via the Mulsanne straight (sorry, can't cope with Les Hunandieres or whatever they call it now). The moon was up but there was a mist lying below the treetops which made the road very eerie and travelling reasonably quickly down it with the top down gave just a hint of what it might have been like in a race car at full chat at night. I got a small lecture from the passenger (one of many over the trip – I didn't think I was that much of a hooligan or maybe they drive differently in Southern California) about the speed but we will gloss over that. Another excellent meal followed and we were sort of ready for the fray.
Some of the STOC Tigers at the Club stand inside the circuit.

The last MKII back from a track lap driven by Jimmy Blumer.
Friday was scrutineering day plus we wanted to bed some new brake pads in and check the car over thoroughly. Plans went slightly astray when it was decided to take the car into town for scrutineering. They went further astray when we arrived in the Place des Jacobins around 11.30, which meant we got to the front of the queue around 12.30 when everything stopped for lunch! Even the band! However, food and drink were provided and a very social interlude passed.

During the morning I was introduced to a fellow club member and motoring journalist of some repute which helped him to get away with co-driving a Cobra not a Tiger (well it was entered by a Tiger man after all). It turned out that Julian Balme's first motoring event was an SODC organised hill Climb at Woburn Park. These events were largely run by my father and JD's father, with some help from JD and I. Both of us felt distinctly goose-pimply at the thought of the motoring circle turning in this way, and who knows, you may read about it all in Classic & Sportscar some time.

Scrutineering was a breeze as all they wanted to do was pass the cars, so my excuse that the wipers didn't work because the fuse had blown was accepted, (even though it had blown before Goodwood!) Anyway we got through and set off back to the circuit. I then managed to get us thoroughly lost so another half hour went by and we got back to the paddock with a very hot Tiger about 4 hours after setting off, not the best use of the day. I should say though, that it is a tremendous experience to drive through a fairly large town in a very noisy race car, in convoy (sometimes) with other racers. To be in such a historic location (this is where all the big race scrutineering used to take place until the cars stopped being driven on the road) – I still cannot imagine a line of 917's doing this – but it was a great experience nonetheless.
| | |
| --- | --- |
| | |
The car was very nervous at the back and wandered rather a lot under acceleration, so the hunt for directional stability followed. This went on rather a long time, with a couple of interruptions. Firstly, Peter and I went to the drivers briefing which was a serious waste of time, the only happy spot being the moan by Geoffrey Pattinson (MD of Coys auction house) that we should avoid sitting on or touching his precious auction consignments, a comment that was totally ignored. Yet more friends were met and chatted to, they being largely in other grids, and we did get back to the paddock eventually. Darrell and Steve then had to be got to Darrell's hotel in the middle of Le Mans, so they could get changed to go to the pre-event dinner, being held in the Abbey on the outskirts of the town. I went back to the paddock and tidied a few things away while the others got lost again and were a couple of hours late, although as the meal was on French time, they only missed one course!

Saturday was the big day. All our travellers had now arrived. The Tiger display area was sorted out, a disappointing location when compared to the Porsche and Ferrari stands on the Bugatti circuit. Also the display was a bit down on numbers when compared to the Morgan's next door with over 80 cars to our 15. Practice for our group was at 11.30. The pads were bedded in and the rear – end steer pronounced markedly worse. Serious thought and effort did not readily provide a solution so Peter Procter took the car down to the pre-grid ready for practice with strict instructions to take it easy and get us on the grid. Peter did two laps and came into the pits to hand over to Darrell. He waited until Darrell had gone out before discussing the handling in some fairly graphic terms, most of which were not complimentary! Anyway Darrell managed a reasonable number of laps over the rest of the period, while the rest of the crew returned to the Paddock to try and figure out what to do next.

Sadly No.8 chose to re-enact practice in 1964 and had a piston – valve meeting which did some serious damage and resulted in the car being scratched from the event. There was not enough time for an engine change before the first race, (unlike last year!) and we thought this would mean the run was over. In fact they could have joined in later in the event but this was only obvious later on. The Alpine was well-behaved this year, I think Dave Arnold had given it a quiet talking to after last year's cylinder head problems, and ran really smoothly this time, although it did try to eat its points a little later in the day.
| | |
| --- | --- |
| No 9 Fan Club: Steve Alcala, Rosemary Smith, Jimmy Blumer, | John Dandy, Margaret Blumer |
A few very uncomfortable hours were then spent trying to figure out what was going on at the back end of the car. By now a lot of people were viewing the cars, and the Tigers attracted a lot of interest from all sorts of spectators so work was frequently interrupted by well- intentioned questions and offers of help. If we had had the foggiest idea what was wrong, we could have used the help but nothing appeared obviously wrong. Several experts were asked to offer advice or to inspect the offending area but no obvious faults were found. A number of minor things were fixed but these did not explain the problem. We had a couple of trial runs which showed no improvement. Peter was brilliant throughout this period, being sat in his chair in front of the car, signing autographs and keeping the visitors occupied and away from those of us underneath the back.
In amongst all this, our allocation of track laps took place. I had one booked but handed it back to JD, which was only fair. It sounds, and watching the video's afterwards, like a serious race with all sorts of exotica howling by Tigers at various points on the circuit, and evidence of some wildly optimistic speedo's not really being believed. Mind you it was quite clear that some Tigers were going very quickly down the various bits of the Mulsanne. John took Margaret Blumer as passenger and she thoroughly enjoyed herself, mind you she generally seems to enjoy herself!
As always the time went much too quickly, and it was our turn to be called down to the pre-grid. Peter was driving the first stint, so I went down with him onto the Bugatti circuit and round to the back of the pits where there was a big gaggle of very excited drivers and nervous crews. Lots of people came down to see the cars and it was all pretty exciting but nerve-wracking at the same time. The race was already running quite late so we seemed to be down there for ages before the cars were sent round to the pits to line up for the traditional run and jump in start. This was only a dummy start as the cars were to be stopped on the Bugatti circuit so that seat belts could be fastened. The atmosphere was quite electric when the starter called for attention and everything went very quiet. Peter made a really cracking start, big handful of opposite lock off the line, and went from row 19 up to the third row before he got chopped up and forced to slow behind the pace car. I think some of us felt like stopping then, which was a sadly prophetic thought. Anyway after an age the cars came round for the rolling start proper with Peter back on the 19th row but still getting going fairly quickly.
He ran three laps in 38th place or so (out of 61) then the car passed the pits sounding flat, and he failed to appear to take the flag. The race was for 35 minutes so at around 6m 10s per lap, there weren't many laps, and a major problem was keeping out of the way of the GT40's and Cobra's running at the front of the field and lapping in about 4m 40s or so. Returned to the paddock where Keith said he had seen Peter parked on the grass near the start of the Mulsanne straight. We waited and waited for the car to be brought in, the next race started and eventually we saw it arrive outside the paddock on a transporter. Peter said it had just stopped but he thought it was pretty serious.
| | |
| --- | --- |
| | That start and that finish!! |
We got it into it's bay (it was quite dark by now) and started to look round. First big clue was the trail of emulsified oil across the paddock – no water and far too much oil in the sump suggested head gaskets and we started to contemplate lifting the heads to see what we would do. Then Steven looked underneath and pointed out the big bump in the sump where (we assume) the con-rod had hit it after leaving the crankshaft – so terminally ill car. Very disappointing after all that work (not me but for Darrell, Steve and Dan Walters who had worked 18 hour days for the last two months before the car was shipped). After some messing around we decided to call it a day, Darrell had returned to his hotel and Peter to his caravan. Steven decided to stay and watch the Alpine run through the night, so I headed gently back to the hotel. A few of the boys had stayed up to assist in drowning our sorrows and a semi-serious attempt was made to do so. Light relief was provided by Madame and Monsieur, who were tending the bar and going sound asleep between rounds! This was duly recorded on video, and provided a few laughs the following day.
Returning to the circuit in the morning, mostly for the social, we discovered that Tristan had done a great job getting the Alpine through the night, including avoiding a very nasty three –car shunt after oil had been dropped which caused a 50 minute delay. Tris then drove the morning stint as well which was a great effort and he was clearly pleased with it. It also appeared that quite a number of cars had been damaged from our group during the night race, including Alan Lloyd in the GT40 that had been our neighbour in the paddock. He had gone off on some oil at night and badly damaged the car, fortunately without damage to himself.
| | |
| --- | --- |
| STOC members into the catering at the Hotel du la Gare ! | Tony Eckford at the STOC Gala Dinner receives an award after his rousing speech. |
After that the day passed in a very pleasant social whirl, largely in the bar (where else!) and it seemed that if you sat still long enough, most of the world passed by. We watched some of Keith's last stint in the Alpine, which managed a steady run to the finish, so great effort Keith and team, well done indeed. Our grid was down from 61 to less than 30 so it had been a race of attrition (and there were 12 reserves to start with as well). It is funny how, when you are involved (in any small way at all) with running a racer, interest in watching others diminishes to nothing. This was silly really as there were some great battles out there and the chance to see some great cars (and drivers) running in their rightful place (both in time and in location) really should have been taken more seriously. Still there is always 2004…..
We got the Coupe's back on their respective trailers and all the kit loaded up ready to head back to the hotel for a celebratory dinner (or wake depending on what you had been doing). The evening was a great success, I think 50 + people sat down to an excellent dinner, where lots of people stood up and said a few words.
Tony Eckford made a stirring speech about not being beaten, Darrell assured us No 9 was back with the Tigers and would be seen a lot more than in it's recent past (roll on Monterey eh boss?). Our visitor from New Zealand, Alan Curry recounted his first visit to Le Mans in 1952 (as the Solex representative) and also told of later visits with Ecurie Ecosse. Peter Procter also spoke of the joys of being back in a Tiger (although he was a lot more polite about the handling than he had been earlier!), and of course our Chairman and Tour Organiser both stood up and told us how well we had all done. There were a number of posters from the 63 and 64 races handed out to the drivers, and when the carriages arrived at midnight we were still eating, normal meal timetable in other words.
Monday was bright and sunny as the survivors lined up outside the station for pictures, and most of the trip were standing on the steps of the hotel. A gentle trip back to Le Havre followed; well we were following the Zafira which had 4 people and a lot of kit in. John's sanity was questioned after his Tiger rushed past in order to attack the one nicely twisty and hilly bit on the way to Le Havre but otherwise I thought I was well behaved. Mind you got a lot of barracking from the passenger about making too much noise and using too many revs but it is difficult not to, when presented with such a lovely motor to play with. (His complaints the following Friday going through Milton Keynes roundabouts in the BMW made the French trip quite peaceful really though!)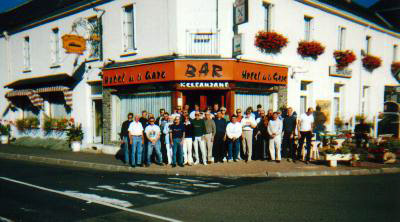 The ferry was full of racers and watchers this time and a very sociable crossing ensued. I caught up with a lot of other car gossip from a couple of friends who had raced in the first group of pre-war cars. Also had an interesting chat with Kevin Kivlochen about the joys of having Stirling Moss share his Cobra (which
happened at Goodwood) and about coming 6th in the group at Le Mans (the same one that the Tigers were in). Eventually we docked, and sorted out the visitors who were setting of for a four day tour of the South. So a gentle run up the A3 to Surbiton and the end of a great few days. Going into work on Tuesday was very painful and I doubt that I contributed greatly to the well-being of K E D all week!
Especially as I escaped on Friday and went to Silverstone, with Steven in the passenger seat again. We went to watch Chris and Steve testing ready for the final round of the Anglo American Challenge on the Saturday. It was a very interesting couple of hours, although no fun for Steve who had the fourth engine blow up this year. This time it looked like a piston let go and came out the block which was not pretty. Chris was going extremely fast and smoothly in the racer, and they felt to be in great shape for the following day. It all went to plan so Chris arrived at Brands on the Sunday as the overall winner of the Anglo-American challenge, congratulations.
We had debated how to get No.9 to Brands even though it wasn't able to race, and in the end my boss ( another ex-racer thanks goodness) borrowed a trailer and we picked the Coupe up from Horsely, still dribbling fluids, and took him to Brands. This time I got loaned Graham's Blue car, another treat, so we had a Tiger convoy round the M25. It was a lovely day, there were 60 + Tigers on display in the Upper Paddock, and a barbecue had been organised to ensure everybody was fed and watered.
The Tigers also had a parade lap or two at lunchtime so I took the boss in Graham's car while Luke had a ride with Stewart Dandy. The Tiger race was very exciting, Chris and Jackie Cochran having a rematch. Chris was comfortably in the lead for most of the race then went wide at the Hairpin and let Jackie through. The next two laps were tense (to be polite) and Chris eventually got back in front. Jackie tried a last ditch manoeuvre going into Graham Hill bends and nudged Chris into a spin. Jackie then promptly spun as well! Chris managed to get going quickest and still won from a fairly tight battling group of Dave Smallridge, John Harrison and Chris Weeden. The Class Winners being Outright & 302 - Chris, 289 - Chris Weeden, 260 - Tristan Bradfield, Alpine - Steve Smith.
After the race awards were presented for the race by Dave Smallridge and Molly Windebank. Chris was presented with a magnificent silver Tiger trophy in memory of the late Mike Windebank. The clubs' annual trophies were then presented by Lewis Garrard. We were very pleased to have made the effort to get No.9 there when Darrell won the "Ian Garrad Members Choice" trophy, another lovely Tiger sculpture, which he was most upset to not be allowed to keep.
A very good time was had by all, and it seemed no time before we had to load the Coupe up again and take it to Surbiton ready for it's trip to Lufthansa for shipping home. There were lots of goodbyes to be said to our visitor's some of whom claimed to be ready for a holiday when they got home! We got the racer home then took Graham's Blue car back to Horsley and so wound our way home.
This was truly an exceptional months motoring and thanks must go to John and Angela Dandy for all the organisation of Goodwood picnics, the French trip, Brands Hatch barbecues and generally running a first class hotel in Surbiton. Also to Mr chairman Graham for organising Goodwood and for lending Luke and me a Tiger for Brands, and to my boss Grahame for not telling me off more during September, and arranging the trailer so we could get No.9 to Brands. I have made some great friends in the STOC and you are a privilege to be with. Roll on the NEC and the dinner!!
Gordon England
---