Brian Lister and Ken Hazlewood at Rockingham
Courtesy of Tony Eckford, ADU 179B owner and team boss, several guests and international Tiger nuts who were in England for TIGERS INTERNATIONAL visited the Rockingham Raceway circuit in mid September to spectate a CART meeting. Whilst it proved impractical to get the two cars onto the track for a parade lap, Tony had made it possible to show the Le Mans Tigers in the pavilion area where they drew a great deal of interest from the racing public.
As importantly for STOC and the marque we had been able to persude Brian Lister the constructor of the cars to join the occasion and to bring his old employee Ken Hazlewood along – the project engineer responsible for the build once the bodies were delivered from Williams & Pritchard. As one STOC wag put it – the cars inglorious appearance at Le Mans in 1964 hardly puts the Tiger in the top twenty of marques built by "Mr Brian". Notwithstanding, the cars were built by his Cambridgeshire engineering firm and had Rootes felt able to follow his design advice a pair of considerably lighter bodied and design proved cars with 4.7 engines would have appeared at Le Mans in 1965. But that's another story.

Brian and Ken - bit of tighter fit than in spring 1964
Brian Lister
"Brian Lister, the founder of the Lister marque, was the grandson of George Lister who established the Cambridge engineers, George Lister and Sons Ltd, 1890! In 1954, Brian having been involved in motor sport for four years, designed and built a car with an MG engine for his friend…Archie Scott Brown to drive, and another colleague, Don Moore, to tune - The Cambridge Three! The car was not revolutionary but was well built by Lister's craftsmen and was an immediate success. Later that year a Bristol engined version was produced and that car with Archie driving proved to be a spectacular success, winning its class in most events and scoring some outstanding wins overall - such as the 1955 British Empire Trophy. Greater success was on the horizon, however, for when Jaguar pulled out of motor racing in autumn 1956, Lister produced a Jaguar engined version of the Lister. The combination of Scott Brown and the Lister Jaguar was the sensation of the 1957 season, winning practically every race. They were to become a motor racing legend. In 1958 the Knobbly Lister Jaguar was produced which was the most successful and best known sports racing cars ever. In the USA, under Briggs Cunningham, they won the SCCA Championship in 1958 and 1959. Tragedy struck the Lister team in May 1958, Archie being killed at Spa in Belgium. It is perhaps a fitting memorial to Archie that whilst only about forty-five Listers were produced they have won or been placed over two thousand times worldwide" Rootes couldn't have employed a greater British pedigree.
| | |
| --- | --- |
| Ken Hazlewood, Brian Lister & Darrell Mountjoy with the cars Listers built in 1964 | |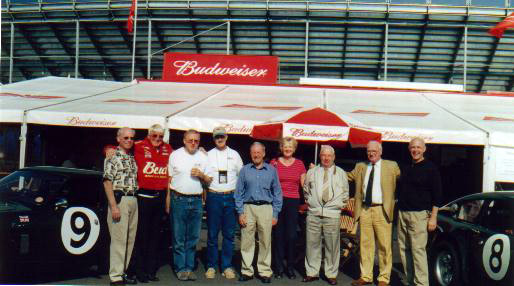 Peter Phelps, John Dandy, Gordon England, Bill Miller, Keith Hampson, Linda McLeod, Ken Hazlewood, Brian Lister, Darrell Mountjoy
---