THE LE MANS CLASSIC
Le Mans, France, 22 September, 2002
---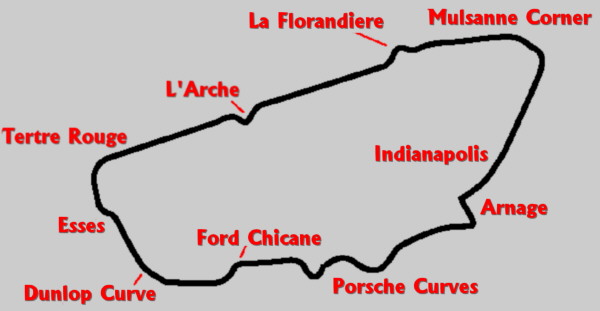 The Le Mans Classic was held for the first time over the weekend of 21 – 22 September, using the full road circuit and featuring both day and night races for classic cars divided into five age related groups. The event was the initiative of Peter Auto in Paris together with the Automobile Club de l'Ouest, and took a great deal of persistence and negotiation with the local authorities and businesses to become a reality. They succeeded and it happened, competitors and spectators are grateful for their persistence, as it added an important gathering to the classic motoring calendar. It also brought together a fantastic variety of machinery, with around three
hundred cars spanning over fifty years of racing history, to one of the most famous and charismatic circuits in the world.
Entrants had the choice of either taking their car to the traditional scrutineering venue of the Place des Jacobins in the centre of Le Mans, or having it scrutineered in the paddock at the circuit. A number opted for the former, and it was worth the trip if only from the nostalgia viewpoint, with a jazz band playing whilst the cars went through the scrutineering bays, and a refreshment marquee that was welcome in the warm sunshine. At the circuit each group of cars had their own tented paddock area, with a jacket and tie dress code borrowed from the Goodwood Revival Meeting, which adds to the period atmosphere and charm.

The infield section of the permanent Bugatti Circuit was devoted to one make car club displays, and featured large turn-outs from a number of French clubs together with a large British contingent for whom Le Mans is always an attractive venue. The predominant display was that of the French Porsche Club, although the French Maserati Club and Club Ferrari France also had impressive numbers in attendance, as did the smaller British marques like Lotus and TVR.
| | |
| --- | --- |
| The infield section of the permanent Bugatti Circuit was devoted to one make car club displays, and featured large turn-outs from a number of French clubs together with a large British contingent for whom Le Mans is always an attractive venue. The predominant display was that of the French Porsche Club, although the French Maserati Club and Club Ferrari France also had impressive numbers in attendance, as did the smaller British marques like Lotus and TVR. | |
Each grid had four 30 minute races over a twenty four hour period, the first starting at the traditional 16.00 hours start time on Saturday afternoon, and the last finishing at 16.00 hours on the Sunday afternoon, basically providing each group with two
daylight and two night races. Within each grid a handicap factor was applied to try
and equalise the varying performances, giving both an aggregate scratch and handicap result for each series of four races. Thus each group had two hours of racing, whilst spectators had a total of ten hours to watch, the hours between midnight and 4-00am being set aside for sleep for the lucky ones, or remedial works for those with problems.

With around sixty cars on each grid, starting with the traditional Le Mans start as a preliminary to a lap behind the pace car before taking the start proper, together with the disparity in performance between group members, meant that spectators almost
constantly had cars in view throughout the individual races, thus increasing the spectacle.

Read Gordon England's - Team Mechanic No 9 - story